Outback Adventures and Aboriginal Culture
The history and culture of the Indigenous Aboriginal people goes back an astonishing 50,000 years, one of the oldest on the planet. There are a handful of places that we believe can offer you a small and interesting insight in to this ancient way of life.
A tour with a local Aboriginal guide brings the whole of Australia in to perspective, you will learn about its people and the lands and landmarks that are sacred to them as well as how they lived and how they live now. Without doubt we highly recommend a local guided tour either for a day or for longer.
In Arnhem Land, a vast wilderness in the Northern Territory, there is historical evidence going right back with rock art sites and caves that have been occupied for over 50,000 years as well as old burial sites. Requiring a permit to enter this area, it is exclusive and very much off the tourist trail. We have special Arnhem land tours with local Aboriginal Guides to show you this fascinating and peaceful part of Australia.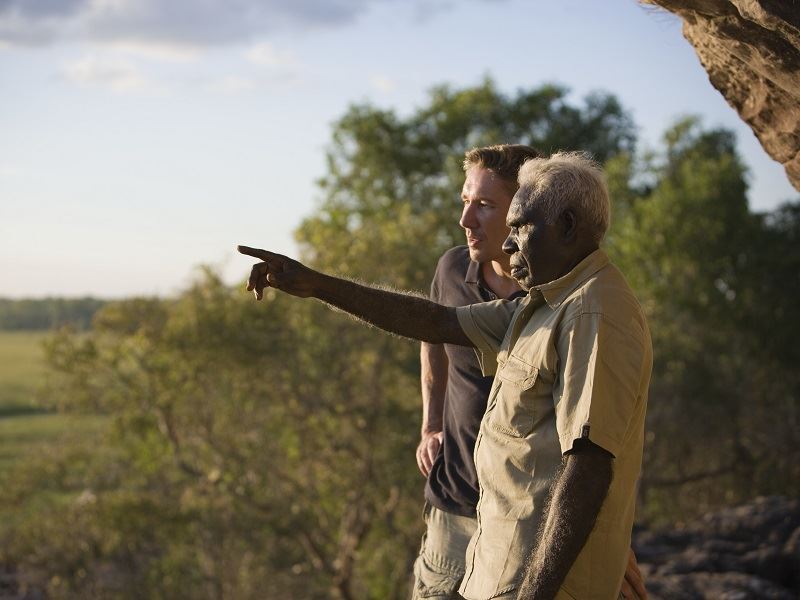 Close by we offer similar guided tours in neighbouring Kakadu National Park, here we offer Yellow Waters Billabong cruise. Led by Bininj Aboriginal guides, this experience puts you face-to-face with the magnificent wetlands, home to 60 species of birds and a plethora of buffaloes and crocodiles. We also offer different Aboriginal Cultural Tours in and around this region and all are equally as interesting brining the region to life in a very special way.
For many, the red centre will be the most accessible of Australia's outback, with the majestic Uluru, Kata Tjuta, Kings Canyon and MacDonnell ranges all to see. Don't rush these exceptional outback sites. We love the Aboriginal Tours available in this region, some of which take you beyond the tourist boundaries, making the experience that more unique.
We are great fans of this part of Australia as it is so different and nowhere else to be seen. Walking around the base of Uluru takes 4 hours, this very sacred Aboriginal site, is also huge. Close by and also a must see is Kata Tjuta, an extraordinary group of large , domes rock formations which glow at sunset, a truly spectacular sight.
Many of you will not know that not far away is Kings Canyon, a 4-hour drive to a magnificent canyon with a spectacular rim walk.
If you want the best of all worlds in the Red Centre then we recommend you arrive in Alice Springs and drive the Mereenie Loop, 150 km of which is off road. This allows you to see Kings Canyon before ending up at Uluru and Kata Tjuta. A real outback adventure.
Further south and one of the most underrated and certainly less visited sites in the outback are the Flinders Ranges, home to the quite amazing Wilpena Pound, an 800 million year old natural amphitheatre that is part of the homeland of the Adnyamathanha, or Yura, people. Take a flight over it and you will be spellbound.
Visiting the outback is fascinating and different. Try and add it to your itinerary. Kakadu, Nitmiluk and Arnhem Land are also places we would love you to visit. In both, very distinctive areas, you will benefit even more with the addition of a local Aboriginal guide. Let us help you book your perfect holiday to Australia. Our specialist staff are waiting to hear from you.
Find your perfect holiday
Talk to our friendly team
01 6649920
Call us 9am-7pm Mon-Fri / 9am-5pm Sat-Sun